Bromeliad Basics: Temperature
Author: Melanie Dearringer6 Comments
Care and Culture, Growing Indoors, Growing Outdoors
In this article you'll find helpful information on the general temperature requirements for most bromeliad plants.
Temperature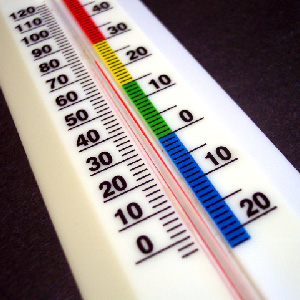 Bromeliads have adapted to become fairly tolerant of wide temperature variations. Most bromeliads prefer temperatures between 60°F (15.5°C) and 80°F (26.7°C) but can survive in hotter climates and temperatures down to freezing. Bromeliads that reside in hotter temperatures will require higher humidity for optimal growth. Bromeliads that make their home in regions where temperature approach freezing should be covered to protect them from the damaging frost. If you are growing a bromeliad outdoors, it is important to ensure your region's hardiness zone is ideal for your type of bromeliad.
A hardiness zone refers to a geographical area that is categorized by its climatic conditions. When a plant is described as being "hardy to a zone" it means that the plant is capable of withstanding the minimum temperatures of that region or zone. Hardiness zones were first developed in the United States by the Department of Agriculture but have since been adopted by other countries.
For even more information on bromeliad basic care, check out these great articles:
Bromeliad Basics: An Introduction
Bromeliad Basics: Fertilizer
Bromeliad Basics: Watering
Bromeliad Basics: Lighting
Bromeliad Basics: Potting Medium
Bromeliad Basics: Repotting
Bromeliad Basics: Propagation
Source
Hardiness Zone via http://en.wikipedia.org/wiki/Hardiness_zone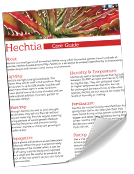 Resource Download
Hechtia Care Cheat Sheet
Learn how to care for your Hechtia bromeliad with this quick and easy informational guide.
Learn More

Ask an Expert
Questions about bromeliads?
Our experts love a challenge!