Reblooming Bromeliads: Your Questions Answered
Author: Melanie Dearringer30 Comments
Blooming, Care and Culture, Frequently Asked Questions

A few months have past since you received your bromeliad. The once beautiful inflorescence is fading. In fact, it's becoming an eye sore. You may be wondering what to do with your plant now that the bloom is gone. What can be done to get your bromeliad to bloom again? Should you cut off the dying inflorescence? This post will answer some basic blooming questions so you know what to expect from your bromeliad. 
My bloom has faded. Should I cut it away?
The answer is yes. Bromeliad blooms can last for several months before they inevitably die off.  No amount of care will bring your spent inflorescence back to life. Aechmeas, Guzmanias and Vrieseas are examples of a bromeliad whose inflorescence require cutting after the blooming process.
To remove the exhausted bloom, use a sharp, sterilized blade and cut the flower stalk as close to the remaining foliage as possible without harming the rest of the plant.
Will my bromeliad ever bloom again?
Most bromeliads bloom only once in their lifetime. Before you run off and throw your bromeliad in the trash, it is important to understand how they grow. As bromeliads age, they add new leaves from the center. The addition of these new leaves makes it impossible for bromeliads that produce flower stalks from their center to continue producing them. They simply run out of room. Instead, bromeliads that have bloomed will begin to form offsets or pups. Pups are exact clones of the original plant. While it not possible for your existing bromeliad to bloom again, by properly caring for the pups you can enjoy your bromeliad's blooms over and over. For more information on how to care for and harvest pups, check out our free Beginner's Guide to Bromeliad Pups.
My bromeliad looks like it is dying. What can I do to save it?
Once your bromeliad blooms, it will only live for a couple more years. During this time, it will continue to produce pups as its way to continue its legacy. Bromeliads have a definitive life cycle. Fortunately, through vegetative propagation, bromeliads can be enjoyed for many generations.
Sources
Bromeliad in bloom photo credit: Geek2Nurse via http://www.flickr.com/photos/ladylong/85767069/
Bromeliads featured image photo credit: random letters via http://www.flickr.com/photos/jessiemoore/4027090017/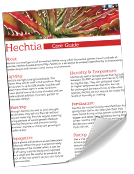 Resource Download
Hechtia Care Cheat Sheet
Learn how to care for your Hechtia bromeliad with this quick and easy informational guide.
Learn More

Ask an Expert
Questions about bromeliads?
Our experts love a challenge!